The scalp of Anderlecht, Ghent and Antwerp in eight days: Union have made an impression over the past week and will hope to continue their 12-game unbeaten streak at the Cercle tonight. As in the previous season, Union seems worthy of the title again, but now in the role of hunter for leaders Genk. Three reasons why Union has even better chances of winning the big prize.
1 • Mentally hardened and learned through title trauma
Halfway through the season, Union is only one point down on the previous season with 45 points after twenty match days. So according to plan, although Genk is doing even better and Union cannot control the performance of the league leaders apart from the duels against each other. Unlike last season, Union seems mentally better prepared in the fight for the championship. The lost title against Club has traumatized the Union players. But at the same time mentally hardened and learned. The immense disillusionment of that time now serves as a deep impetus, revenge as a motor.
The mentality in the group remains top, but is different: the players are noticeably less euphoric about success. Throughout last season, Union lived as a popular figure in its comeback in the top division surprise on a pink cloud: nothing had to be done, everything was possible. That led to less pressure, but in the decisive playoffs Union tensed up within sight of the title meeting. Union fell into exaggerated euphoria again this season after beating Rangers FC (2-0) at home in Europe. The weather crash followed quickly: 0:3 defeat at KV Mechelen and still trumped (0:3) in the second leg in Glasgow.
That lesson is on everyone's minds now: Union will no longer party too soon. The title opportunity lives internally within the group, but players will not shout it out, true to the mantra from game to game. It's no different than last season, but now they can put pressure on leaders Genk like Club Brugge did back then. Senne Lynen put it this way on Sunday after Antwerp: "It's nice that we're the hunters now. Maybe Genk will be under pressure or stress now when the play-offs come."
2 • Teuma more than ever a patron in a better cushioned core
This conclusion was drawn several times this season. Union coped perfectly with the departure of the strong defending champions Deniz Undav, Casper Nielsen and Kaoru Mitoma and are better equipped across the board. Senne Lynen, unlucky with a long-term injury last season, authoritarianly took over Nielsen's place as midfield regulator. And without Nielsen, Teddy Teuma is more than ever the patron of the field. He feels very comfortable with this responsibility and proves it with his best season with six goals and eight assists in 1A. Teuma also always plays forward with urgency and blindly finds his trusted teammates around him.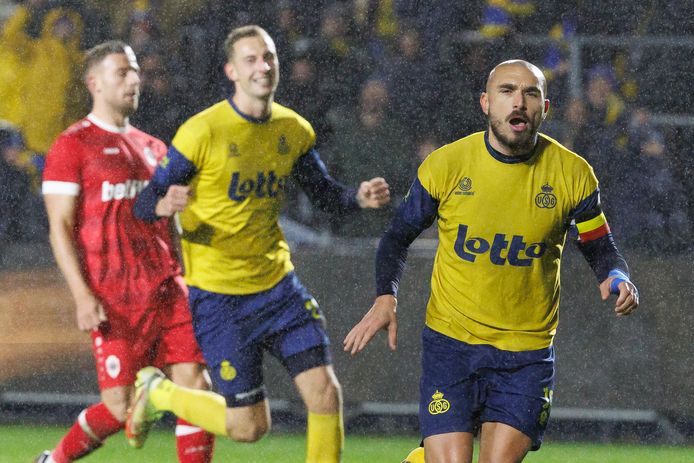 Of the newcomers, striker Victor Boniface is one of Belgium's best summer signings. And Simon Adingra is also a hit. With the added competition, no player can rest on their laurels. Loïc Lapoussin experiences this with Adingra, which was often preferred. With Adingra absent against Antwerp on Sunday, Lapoussin played one of his best games for Union.
Union isn't a difficult puzzle this season: all the pieces fit together in a complementary way and the spares slide in beautifully. Do you remember Dante Vanzeir last season? His suspension sputtered Union's engine a bit, and when he was back he was chasing his best form in the playoffs. Don't panic now if a striker is out. Gustaf Nilsson has already scored important goals and his physique allows for a different type of game. Also in midfield, Cameron Puertas, Jose Rodriguez and Oussama El Azzouzi proved valuable pawns on the chessboard when starters were absent.
3 • The (in)visible hand of Karel Geraerts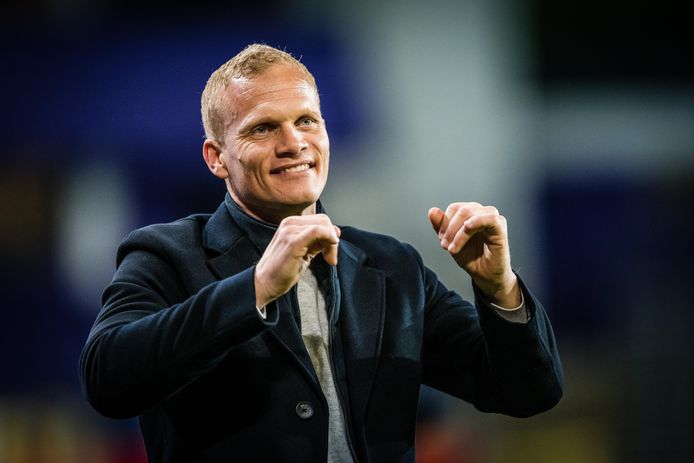 How big is the role of Karel Geraerts in the current success story? Undeniably great was the role played by previous coach Felice Mazzu this past stunt season. With his fiery yet familiar approach, he suited the warm Union, always chest-first into the breach to protect his group. Tactically, he stuck to the quick changeover with Vanzeir and Undav as spearheads. Against a closed defense, however, Union played stiffer: the football was a bit more one-dimensional.
Under Karel Geraerts, Union seems to be stepping up a gear this season. Almost amazingly, the approach is paying off on three fronts, with Union also doing well in Europe and in the cup.
It helps that Geraerts, as Mazzu's assistant, already knew the group of players to a large extent and built on that basis. But tactically, Geraerts sets his own accents, above all that Union is playing higher football with more possession this season. At the beginning of this season, the defensive seemed to be a problem with this new style of play: Union conceded (too) many goals. Geraerts used the time between the World Cup and the winter break to organize his defense better: in the last five games, Union have conceded only two goals and scored fourteen times.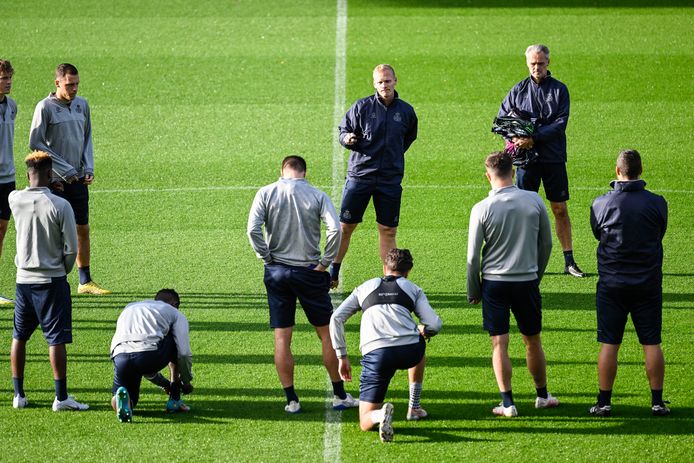 As a person, the coach Geraerts functions in complete harmony with his group. No sign of outrage from the players. Geraerts is less flamboyant than Mazzu – he won't be dancing and jumping on the sidelines – but like Mazzu, he knows how to hit the pack of players in his own way. Union plays football with the right intensity in almost every game. The game rarely if ever splashes, even in an overloaded program like last week with three toppers, Union keeps the knife between his teeth.
Geraerts comes across as level-headed, correct and authentic. He keeps his head down and remains calm in the undeniable stress that comes with a job as a coach: he remains polite in his comments on referees – often an easy target when the result is disappointing. Almost certainly he behaves naturally and respectfully towards the group of players in which he has to deal with a lot of competition. To keep everyone happy, he relies partly on the group itself: it corrects itself very strongly. Furthermore, Geraerts is clear about what he expects from the players. "That's important to me. For example: I want them to give a lot in training. Those who eat like this will be rewarded sooner or later. It also depends on periods, suspensions, injuries or players who are out of shape. I now communicate a lot with the players."
And Geraerts recently stressed that as a coach in leading the group he could count on the help of technical director Chris O'Loughlin. It relieves him of potentially annoying marginal things. "Chris, for example, takes over conversations with certain disgruntled brokers or other people who want to push." ​​Read: who prefer to see their player play more. Geraerts: "We're going to tackle this together. It's going well so far."