Will Jumbo continue to sponsor Wout van Aert's cycling team from 2025? And that as a main or co-sponsor? This is currently on the negotiating table between the supermarket chain and team boss Richard Plugge. His cycling team still wants to grow and then the question is whether Jumbo still fits in there…
Wout van Aert, Tiesj Benoot, Nathan Van Hooydonck, Tosh Van Der Sande and Co. are not urgently looking for a new team and Jumbo-Visma is not urgently looking for a new main sponsor. "Our current sponsorship contract with Jumbo runs until the end of 2024. There is no need to panic," says team manager Richard Plugge.
Two years is enough time to find a new sponsor. If that's even necessary. Supermarket chain Jumbo is considering reviewing its cycling, skating and motorsport sponsorships. With an emphasis on consideration. This is not a fait accompli.
The position of the team is different. "As a team we have reached our peak. Our challenge now is how we can stay at the top and how we can get even better and bigger, for example by winning the Tour more often," says Plugge.
This requires strong partners. Plugge: "With Visma and Pon (holding company with 8 billion euros in sales, which owns co-sponsors Cérvelo, BBB Cycling, Lease a Bike and holds the import license from co-sponsor Skoda in the Netherlands, editor's note) we have we already have international partners who are ready to go further with us. Jumbo is also enthusiastic. We also hope to continue with them, as their recently deceased founder Karel van Eert stood at the cradle of our team. We don't want to forget that. We want to continue building this team together with them over the long term. We are now examining how this can be done," says Plugge.
The question is whether Jumbo can and wants to meet these requirements. Because if the cycling team raises the bar, it will require additional efforts from the sponsors… Is Jumbo ready to remain the main sponsor? Or will it become a co-sponsor and give way to a more international sponsor? Ton van Veen, CEO of Jumbo, will come to the Tour of Flanders on Sunday. A shiny role for Van Aert may help increase the supermarket chain's cycling sponsorship rather than phase it out.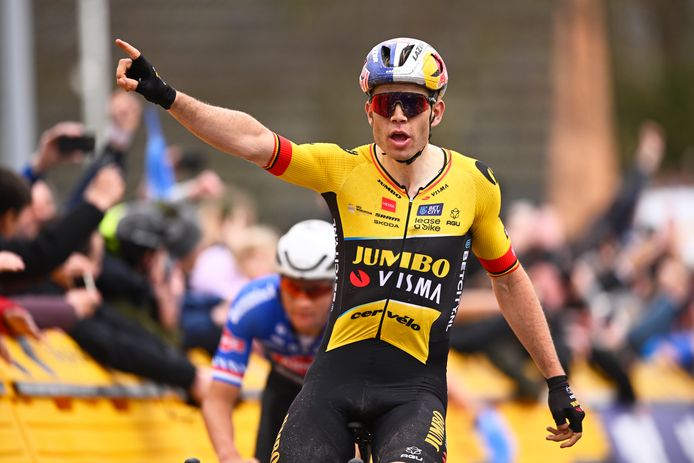 Source : HLN