More exclusive than exclusive. That was the party that broke out on Saturday night at La Riva in Antwerp, to which only the beau monde of Flemish influencers were invited. The glamorous party was hosted by Soaperstar, a new character from 'The Masked Singer' who is drenched soapy diva vibes. Soaperstar also brought two friends: Groot Licht and Champignon. Together with their guests, the three Masked Singers tasted sparkling snacks, drank cocktails à la carte, performed on stage and took time for selfies.
Move over Beyoncé, hello soaperstar!
Soaperstar's life is bubbly and colourful. She is a true superstar, adored by millions of fans around the world. Your days are filled with creating video clips that are eye-catching, cool and mega popular. She is also the star on TikTok. Everyone wants to be a soap star and be a part of their dream world. She helps young and old to escape from everyday life and obligations.
"Cameras rolling? lights ok? everyone ready? Aaand… ACTION! Hello dear fans! Soaperstar is here!" says the brand new character from 'The Masked Singer'. "That means the foam party can start, because I'm in the sun hometown. I'm working to the stars to get all your DMs Messages and reply to fan mail. But hashtag spoiler alert: thanks to 'The Masked Singer' I now see my chance to meet you in real life. Yes yes dear fans, Soaperstar is coming to you! In the showbiz world, I know the tricks of the trade. Uh, I mean whip! And I love a game now and then. So roll out the red carpet, hashtag meetandgreet! I hope for a flawless course because no water is too deep for this sparkling celebrity!"
Eureka! Here is Great Light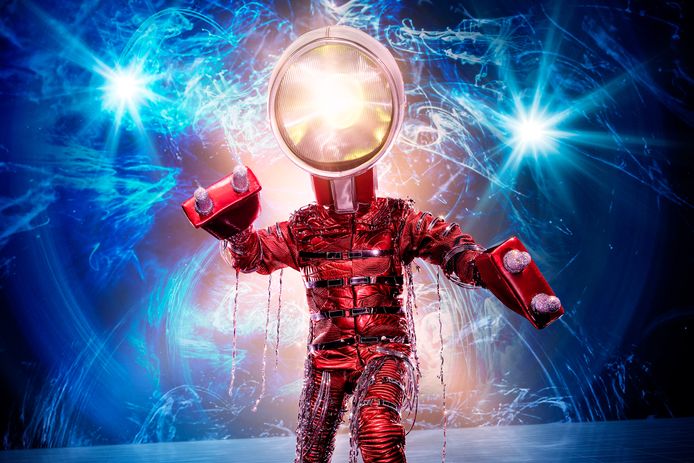 Groot Licht's habitat is a laboratory where he experiments with test tubes and mathematical formulas every day. He is a scientist of great repute who always speaks in difficult words. Great Light hopes that one day he will make a new discovery that will change the world. Being able to shout "Eureka" is what he lives for. He is incredibly smart and has already won several Nobel Prizes. Pierre and Marie Curie are his great role models. Great Light only knows one world and that is his laboratory. Taking part in 'The Masked Singer' is therefore completely outside of his comfort zone.
"Dear admirers of QLED and OLED technology. Great Light is my binomial nomenclature please!" said the new character. "My kinetic energy is currently at the speed of light, almost 300,000,000 meters per second. So no subject actually has more speed than light… except me. Because I move so aerodynamically, I still have many nanoseconds to optimize my scientific studies. I'm a true know-it-all. I want to multiply and multiply and multiply my knowledge… Can everyone follow? My boundless thirst for news was the trigger that brought me here. 'The Masked Singer' is a real enigma for a scientist, so I'll be careful not to focus my EM radiation on it!"
cuteness overload at mushroom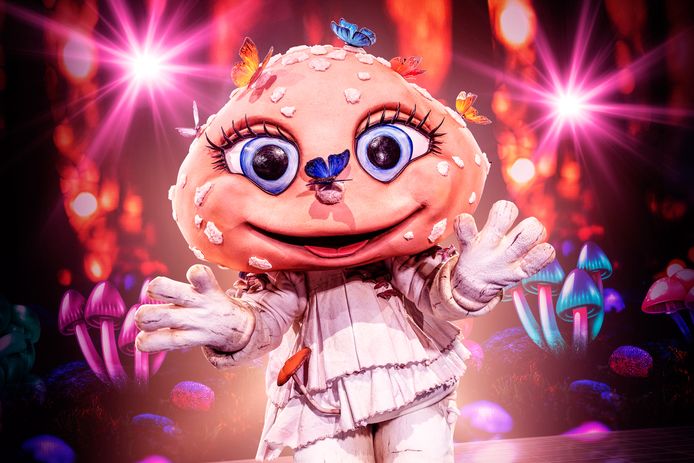 Fluttering butterflies, babbling brooks and a very cute hobbit house: this is the world of Mushroom. This masked singer starts the day happily and cheerfully, nothing and nobody can disturb his/her good mood. It looks like a fairy tale! Mushroom Friends are little mushrooms that he/she tends like their own children. Though Champignon likes the dark, this masked singer's life is one big, elongated ray of sunshine.
"Hello happy friends! Welcome to Mushroom! They say my kind pops up like mushrooms, but I'm one in a thousand!" says the character. "I'm not Benjamin anymore, but since I was a little mushroom I knew exactly what I wanted. And I'm telling you: I'm living my dream! A real mushroom grows on a pitch black night, but I'm the last one to turn off the light! I'm here to leave my mark, so don't just send me into the woods! In the fairy tale of 'The Masked Singer' I live happily ever after! Haha!"
Twelve of the fourteen Masked Singers have now presented themselves in Flanders with Soaperstar, Groot Licht and Champignon. Two other figures wrap themselves in a secret and keep themselves hidden. Where in the street scene will they soon appear? The message is: keep your eyes and ears open.
"The Masked Singer": from Friday, February 3, 8:35 p.m. on VTM.
Source : HLN