Ben Shelton (ATP 89) is the exponent of the American boom in men's tennis. The 20-year-old son of ex-professional Bryan Shelton is in the quarterfinals of the Australian Open for the first time. And that at his first tournament outside of America and after almost half a year as a professional.
Sebastian Korda (ATP 31), Tommy Paul (ATP 35) and Ben Shelton: three Yankees in the quarterfinals of the Australian Open. The latter two will even decide among themselves who can move into the semi-finals for the first time. The benefits will be reaped from a combination of better management and a talent boom in the US. After the first Grand Slam tournament of the year, 20 percent of the top 50 men will come from "Uncle Sam's" country. With Shelton perhaps as the roughest diamond.
On the plane with no expectations
The young man from Atlanta has only been a pro for six months, was number 569 in the world a year ago and has never played tennis outside US borders. "It's really a surprise," said the 1.93 meter tall Shelton about his advance. "I got on the plane with no expectations. I know it adjusts from America to Australia with the jet lag and time difference. I knew it was going to be a fight, my first time outside my home country. What helped me is that I have nothing to lose and I can play tennis freely. That made a significant contribution to my success."




If Ben missed a workout, he had to pay me a small fine of five to ten dollars. It's only happened two or three times. Then he understood, because he likes money.

Father/Coach Bryan Shelton
In the round of 16, Shelton won against his compatriot JJ Wolf (ATP 67) in five sets, with his great service and fighting spirit once again prevailing. His performances at the American collegiate championship – Shelton was champion in 2021 with the University of Florida and last year's individual winner – hardened him, he learned to keep a cool head in the often hostile atmosphere of university encounters. And then of course there is the input from father Bryan. He was a solid pro himself, peaking at No. 55 in the world in 1992. "I owe him all my success," Shelton told Eurosport. "He's been coaching me since I picked up a racquet. And he also holds my head on my shoulders when I start to float a little. He was a great example. It's nice to have a tennis father who has experienced everything, including the hardships and demands of professional life."
Crazy about American football and baseball
However, little Ben's entry into tennis did not go smoothly. After all, Shelton Jr. was addicted to baseball and American football in particular by the time he was twelve, and even a talented quarterback with his smooth left arm. It wasn't until his father became a coach at the University of Florida that he became more involved with tennis. "Football is a lot harder on the body," Shelton said. "I don't know how long my mother would have loved to see me attacked. And because my father was a former professional and coach, the only way I could benefit from a greater future was by choosing a sport in which he was an expert."
So the duo got to work. "We trained every morning from 6 to 8 a.m. before he had to go to school," said father Shelton in L'Equipe. "If he missed a workout, he had to pay me a small fine of five to ten dollars. It only happened two or three times. Then he understood. He didn't want it to happen again because he likes money."
Additionally, Shelton's history as a quarterback helped develop his weapons. "He loves everything that comes over him," laughed Dad Shelton. "Whether serve or smash. He's very explosive at it." Incidentally, it was Dad Shelton who advised his son against exploring tournaments outside of where he lives in America. For good reason. "He asked me if I was the best player in America," says the new Big Ben. "'Why do you have to go abroad when you're not even the best American?' my father said."
With his quarter-finals at the Australian Open, Ben Shelton is already number 43 in the world rankings and thus the sixth best American. A win over Tommy Paul would put him in fourth place. Soon he will enjoy discovering the whole world and the (tennis) world will enjoy him.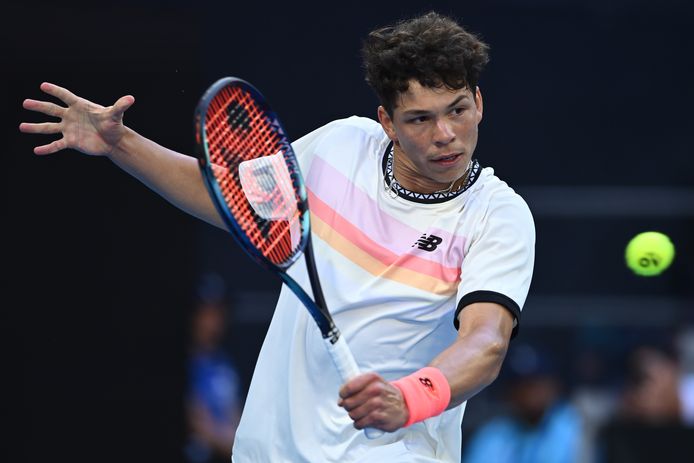 Source : HLN